In this post I just want to draw your attention to PsychSplash, which is an outstanding psychology resource that showcases other great psychology resources.
What you will find on PsychSplash is an ongoing commentary of Psychology related websites and psychology related blogs.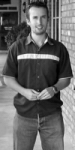 Gareth Furber BPsych (Hons), PhD
This innovative and much needed psychology resource is written and maintained by Gareth Furber who notes that PsychSplash is a project aimed at reviewing the web for Psychologists and that the idea grew out of his interest in the web and fascination with how something so huge like the internet could actually make your life easier.
Well Gareth has certainly made life easier for anybody looking for quality psychology information and there are plenty of things of interest relating to forensic psychology and the application of psychology in a legal context.
A great feature of PsychSplash is its interactivity. You can comment on Gareth's articles and psychology reviews, make suggestions, express your opinion, direct people to psychology related sites and you can get all the latest PsychSplash entries delivered straight into your inbox.
Click here to Vist The PsychSplash Homepage