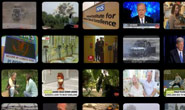 I've just added a new feature to the Forensic Psychology Website, namely a constantly updating collection of the most recent Internet based forensic and psychology related videos.
Each video wall is built around a specific search term e.g., 'forensic expert' and each image in the wall is a sample of the video that you can watch in full should you wish to do so. So far I have added a 'forensic expert wall', a 'FBI profiler wall' and a 'clinical psychology wall'
For more information and to check out the video walls visit the main forensic psychology website.
http://www.all-about-forensic-psychology.com/forensic-video-walls.html
Have a great thanksgiving
David