Forensic Psychology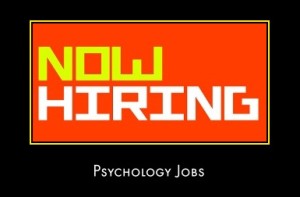 (Photo Credit: Zach Klein)
Argosy University is looking to recruit qualified Psychology adjunct faculty members to teach online classes in Forensic Psychology. Applicants must hold a PhD in Forensic, Clinical or Counseling Psychology or a related field. Candidates must have at least one year experience in forensic work (competency, mentally ill and dangerous, custody, treatment) as a psychologist or substance abuse counselor. Candidates must also be a licensed psychologist and have at least one year's teaching experience at the post secondary level.
These positions are only open to applicants who live in the United States. Broadband Internet access recommended. Required online orientation and training will be provided. Interested applicants should visit
http://online.argosy.edu/about_us/employment.asp
and follow the application procedures. All submissions will be acknowledged and a review of applicants will begin immediately.
Contact Information
Catherine L. Tompkins
Online Faculty Recruitment
E-Mail: onlinefacultyrecruit@edmc.edu
Looking For A Psychology Related Job?
The psychology jobs directory connects you to a network of websites that list hundreds of psychology related job vacancies.
Visit The Psychology Jobs Directory
---
Please share this Forensic Psychology Blog Post with others by adding it to your social bookmarks.
---




www.all-about-forensic-psychology.com
A Free & Comprehensive Guide to The World of Forensic Psychology
---
Forensic Psychology Instructors