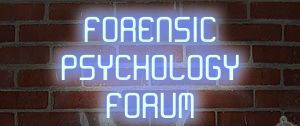 Just to let you know that the Forensic Psychology Forum is up and running again. It was originally launched at the end of last year but was quickly overrun with SPAM and I had to suspend the right for users to post - which rather defeated the object of the forum.
I'm pleased to announce, however, that registered users can now post again and that I have put a number of measures in place to deal with the problem of SPAM. I have deleted all Spam related users from the system and no newly registered members can post until I have checked and personally activated their account.
Another way to ensure the integrity of the forum is to have plenty of board moderators, who can delete any Spam or inappropriate posts as soon as they appear. If you would like to be a moderator on the forum, just let me know, it really just involves deleting any SPAM posts you come across when visiting the forum; and it's something extra to put down on your resume/CV.
There are a number of topic categories on the forum e.g. criminal profiling, psychopathy, forensic assessment, forensic psychology careers, forensic science etc; but please feel free to suggest any new topic areas.
I'll be promoting the forum over the next few days, so hopefully it won't be too long before we have an active and vibrant online community.
Click Here
to visit the Forensic Psychology Forum, and don't forget to register if you haven't already done so.
---




www.all-about-forensic-psychology.com
A Free & Comprehensive Guide to The World of Forensic Psychology