Evaluating Competencies: Forensic Assessments & Instruments by Thomas Grisso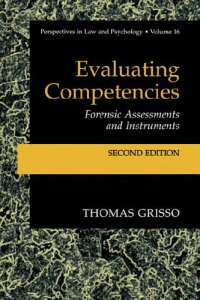 Book Description
This book offers a conceptual model for understanding the nature of legal competencies. The model is interpreted to assist mental health professionals in designing and performing assessments for legal competencies defined in criminal and civil law, and to guide research that will improve the practice of evaluations for legal competencies.
A special feature is the book's evaluative review of specialized forensic assessment instruments. Application of the assessment model and reviews of instruments are provided for six areas of legal competence:
Competence to Stand Trial
Waiver of Rights to Silence and Legal Counsel
Not Guilty by Reason of Insanity
Parenting Capacity - Determination of Child Custody
Guardianship and Conservatorship
Competence to Consent to Treatment
Click Here
to visit the forensic psychology book of the month page for full details.