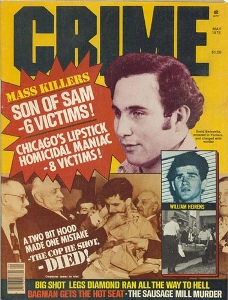 (Photo Credit:
Jairoo
)
Fascinating podcast broadcast by The City University of New York (CUNY). Contributors include Louis Schlesinger, professor of forensic psychology at John Jay College of Criminal Justice, who discusses the pathology of serial killers with particular reference to David Berkowitz.
Other high profile guest speakers include Mary Ellen O'Tool, supervisory special agent and criminal profiler for the F.B.I. who collaborated on the Zodiac case in San Francisco, and Scott Weinberger, chief investigative reporter for WCBS Channel 2 News, who was granted an exclusive interview with David Berkowitz at the Sullivan Correctional prison in May.
Click Here
to listen to the Forensic Psychology Podcast: The Mind of A Serial Killer.
Sexual Murder: Catathymic and Compulsive Homicides by Louis B. Schlesinger
Click Here For More Details
---




www.all-about-forensic-psychology.com
A Free & Comprehensive Guide to The World of Forensic PsychologyNever miss a forensic psychology blog post
Click on the orange RSS button to receive automatic content updates in My Yahoo!, Newsgator, Bloglines, and other news readers.
Or subscribe to The Forensic Psychology Blog by Email
---
The Perfect Forensic Gift:
---