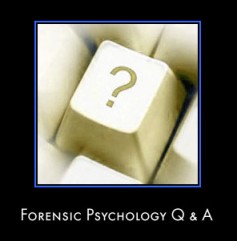 Forensic Psychology Q & A is a new knowledge sharing resource on the All About Forensic Psychology Website where anybody can ask or answer a question relating to the fascinating world of forensic psychology.

So don't be shy, if you have a forensic psychology related question, ask away and if you think you can answer any of the posted questions, please do so.

Go To The Forensic Psychology Q & A Page

Other Q & A Resources

You might also want to check out:

Forensic Science Q & A

Psychology Q & A


---
Please share this Forensic Psychology Blog Post with others by adding it to your social bookmarks.
---




www.all-about-forensic-psychology.com
A Free & Comprehensive Guide to The World of Forensic Psychology
---
Forensic Psychology Q & A