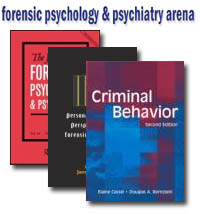 The Forensic Psychology and Psychiatry Arena provides researchers, instructors and students in Forensic Psychology and Psychiatry with information on the range of books and journals produced by Routledge, Guilford Press, and Psychology Press.
Covering books & journals in Forensic Psychology & Psychiatry, and Psychology & Law. Psychology Press also publish the Gudjonsson Suggestibility Scales which are particularly applicable to police interviewing contexts.
You can visit this very useful forensic psychology website by
Clicking Here
.
---




www.all-about-forensic-psychology.com
A Free & Comprehensive Guide to The World of Forensic Psychology