Forensic Psychology
Ethical Practice in Forensic Psychology: A Systematic Model for Decision Making by Shane S. Bush, Mary A. Connell & Robert L. Denney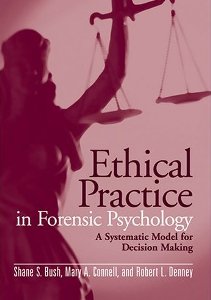 Book Description
While most psychologists working in forensic contexts aspire to practice in a manner consistent with the highest ideals of ethical practice, they face numerous and complex concerns and may be unclear about how to apply the Ethics Code and Specialty Guidelines for Forensic Psychologists to their real-world issues.
In Ethical Practice in Forensic Psychology, Shane S. Bush, Mary A. Connell, and Robert L. Denney explore common ethical dilemmas forensic psychologists may encounter in procedures including referrals, evaluations, documentation of findings and opinions, and testimony and termination. The authors present and apply a practical ethical-decision making model to timely case vignettes in the areas of civil, criminal, and child/family law to demonstrate how to approach the ethical challenges faced in forensic psychology; they also offer suggestions for addressing potential ethical misconduct by colleagues.
This balanced and comprehensive volume will be a valuable addition to the library of forensic psychology students and trainees, and career forensic psychologists.
See following link for more details:
Ethical Practice in Forensic Psychology: A Systematic Model for Decision Making
Visitors From The UK Click Here
---

How you doin?
Let people know with our unique personality trait t-shirts and gifts. Whatever your mood, express it with style with our innovative design range. Or why not show your family and friends that you know what makes them tick; psychological profiling has never been so cool.
Any profit made from the Personality Trait Cafepress store will be put towards the hosting and development costs associated with the All About
forensic psychology
and All About
forensic science
websites.
Click Here
to visit the Personality Trait CafePress Store.
---




www.all-about-forensic-psychology.com
A Free & Comprehensive Guide to The World of Forensic PsychologyForensic Psychology Book of The Month (February)