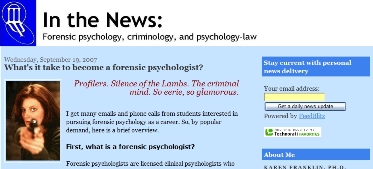 Just want to draw your attention to a very uesful blog post written by forensic psychologist Karen Franklin. In addressing what it takes to become a forensic psychologist, Dr Franklin provides clear and concise answers to a number of questions, these include:
What is a forensic psychologist?
What is the state of the field?
What skills must a forensic psychologist have?
Click Here
to read Dr Franklin's forensic psychology article in full.
---




www.all-about-forensic-psychology.com
A Free & Comprehensive Guide to The World of Forensic PsychologyNever miss a forensic psychology blog post
Click on the orange RSS button to receive automatic content updates in My Yahoo!, Newsgator, Bloglines, and other news readers.
Or subscribe to The Forensic Psychology Blog by Email
---
The Perfect Forensic Gift:
---